Everyone calls me Jordi  – unless it is something really official. As I was born in 1995 I am apparently a 'Millennial' or Generation Y, research tells me us millennials have an elevated use and familiarity with the internet, social media and mobile devices, can't say I disagree with that. As someone who is nonverbal, the use of technology has undoubtedly helped me in my everyday life and whilst studying.
My early days of education and life was in Buckinghamshire, then in my early teens I started to board at Treloar school and college in Hampshire. Whilst it was hard at first being away from family, I always went home to my dad's at weekends and end of terms, those years really did set me up for my independent life at University.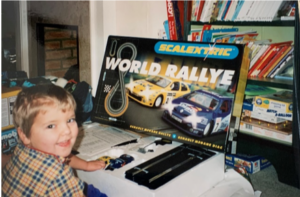 Having a father that enjoyed going to live sport and watching it on TV indoctrinated me as I grew up. We were always going to football, then as I showed an interest in F1 we started to go to Grand Prix's and my destiny was laid out – perhaps it was the younger me and a love of  Scalextric that laid the spark of a foundation!
Under my father's guidance, support from Treloars and a shed load of work from me, I became the first member of my family to be accepted to go to university. In September 2016 I started my 'Uni Life' at Solent University studying Sports Journalism.
It has been a four-year rollercoaster of studying and support, but in the spring of 2020, I achieved a Bachelor of Arts degree in Sports Journalism. Of course, it was the year of Covid19 so the usual graduation celebration was postponed, however I am sure sometime in the not to distant future I can celebrate with my fellow graduates.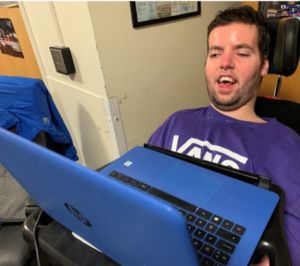 With the degree under my arm, I applied (and was accepted) to study an MA in Sports Broadcast Journalism at Solent University. Studying under a pandemic has been difficult, but then again, I am used to working alone from my halls of residence. Studying under the umbrella of the restriction of distance learning was relatively easy for me – after all I'm a millennial and have a disability, I live for tech ?
I have a great team of people supporting me, not least my dad. As I have a disability I need 24/7 support, for this  I must thank Lucy who has been my rock through Uni Life, and long before that – hopefully she can be with me for as long as possible.
I do know if I work hard I will achieve what I really want to do, travel the world and report on the excitement and drama of the F1 circus and more.
Jordi.