First and only female winner of Dakar rally, Jutta Kleinschmidt talks exclusively about her time with Extreme E. Founded by Alejandro Agag in 2019, they have given females a platform to show their skills behind the wheel. One driver is male, and one is female, each drives one lap before switching at the switch zone, which means that when a team wins, both a female and male driver win. When speaking to Kleinschmidt about this, she says, "I think we have to work on the young girls and tell them: look, this is a very nice sport and it's good for you too and you can succeed in [it]."
In 2018, the number of males to females who had karting licenses in the Under-16s was approximately 14:1. The German racer explained why she is overjoyed with Extreme E's efforts to bring females into the spotlight as well as males, "50% of drivers are female and 50% of the drivers are male. So, this is a huge opportunity for women, and you can see that in, for example, the last race where I went in Spain. It had a lot more women than usually because now there is a kind of push for women. So, that is really nice to see." She puts into perspective how difficult it is for women to be in equal measure in motorsports, "you can still see that it's much more boys than girls.  I think as long as we don't change this, it will be difficult to have equal amount of women in the top sports."
It should be noted, rookies need to go to trade shows and drum up sponsors by bigging themselves up. Unbelievably, this takes a lot of time and research and as Kleinschmidt adds, "I think the biggest obstacle is still to find sponsors and support. At the beginning, it is made very difficult because you cannot show any good results. Then, as a woman it is maybe even more difficult as people don't really believe you can do it." This could be because the Women in Motorsports Commission was only created in 2009. The commission aims to represent women through media, international events, partners, and stakeholders, to create inclusive programmes and to show that motorsports is open to women in all aspects. 
In addition, climate change is becoming an increasing worry for this generation with sea level predicted to rise by 30cm by 2050, meaning that a lot of low-lying land will be lost. Extreme E is trying to showcase these extreme environments to put the word across that they may not be around for much longer. An inspiration to female drivers, Kleinschmidt highlights the environmental factors shown in Ocean XP, "I could see that through Extreme E, we have the chance to tell it to the world and at the end of the day, this is the most important bit because people, if they go there, they can see it,  but sometimes in the foreign countries we don't care so much about it and I think this is important, to make reports about it and to show it to the world".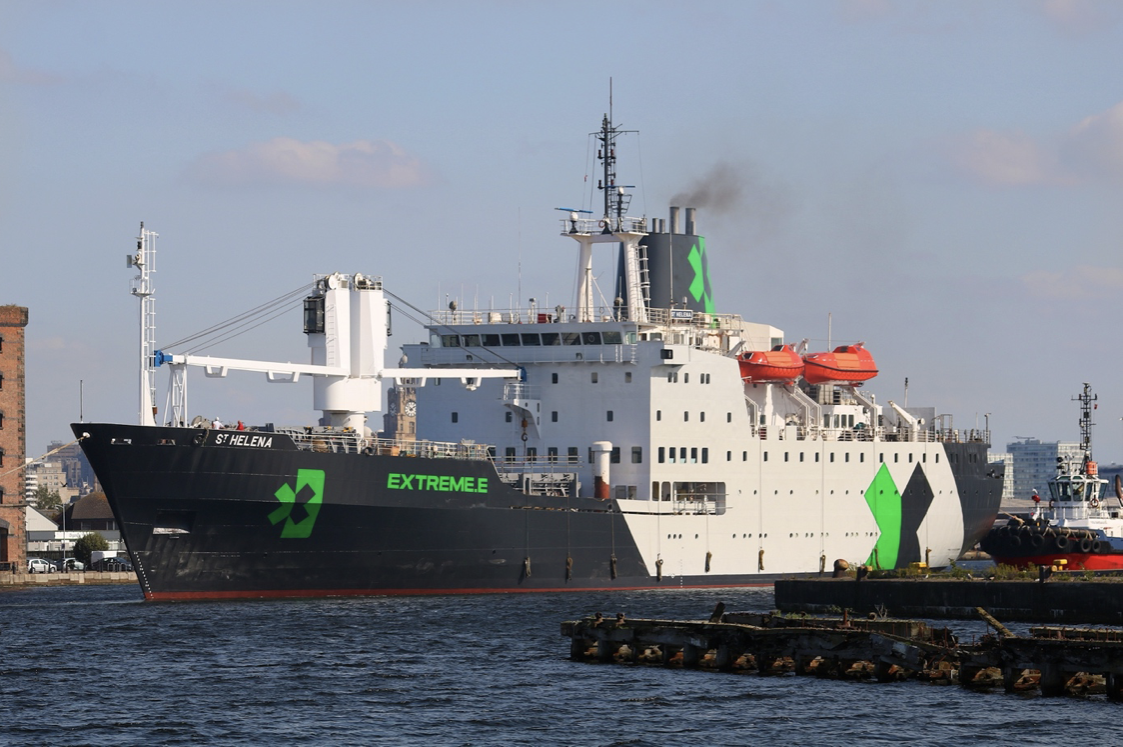 Extreme E's St. Helena disembarking from Liverpool
Motorsports can learn from Extreme E as, "they know now that electric cars are super powerful. For sure, we have to work on the distance, but you always need some events to start with and Extreme E is a very good example for that." Jutta explained what she hoped motorsports would become in the future, "I am totally convinced that we can have environmentally friendly motorsports in the future if we go in this direction and it will be very exciting. I really hope that the younger generation then are also as excited as myself". I know I am excited, how about you?
By Jordi Wood